Tips for Hosting House Guests during the Holidays
The holidays are the most wonderful time of the year but can also induce stress for many people as they shop for the perfect gift for their list of friends & family, decorate the house inside and out as well as prepare a holiday feast of dinner and desserts, from soup to nuts to eggnog. And some hospitably take on the added work of hosting friends and family as house guests during the holiday season.
While having the family together can bring a much needed dose of cheer and precious memories, it can also add to your to-do list and list of concerns to get your home ready for guests.  With a few easy preparations and some planning ahead, you can make your guest feel right at home.
I.  Make Plans with your guests.  Talk to your family and friends in advance of their arrival to get a complete itinerary of their travel arrangements, as well as any plans they have during their stay so you can accommodate them. Also, it would be advisable to ask about any dietary restrictions, food allergies or other health-related limitations to consider when planning their visit.
II. Clear out space for your guests.  When you have guests, your house can begin to feel cluttered and disorganized with all the extra clothes, shoes and luggage, so make sure they have the space to unpack and relax. Clear out some space in your entryway and closet for bulky coats, boots, and hats. Make sure they have space in a closet or dresser in their guest room, and clear surfaces for their luggage or bags. Also, have outlets or power strips accessible so they can easily charge their phones and devices.
III. Equip your Guests with all they need.  Even hotels welcome their guest with small size toiletries and fresh towels, so anticipate your guests needs for all their personal items they may have forgotten. Put out tissues, hand and body soaps, lotions, shampoo and conditioner, toothbrushes and toothpaste, even some scented candles, room sprays or a diffuser in seasonal scents that add to the holiday-feel. And it goes without saying, that their bed should be made prior to their arrival with fresh sheets, pillows and extra blankets. Have fresh towels and washcloths laid out for each guest. And a soft bath robe, warm slippers and a good book are always a nice touch.
IV. Equip your Pantry for Snack attacks. Have healthy snacks like nuts, cold meats, cheese and crackers, an assortment of teas, coffees and juices so your guests can enjoy that midnight snack, or afternoon tea without having to bother the host. Give your guests as much freedom to take care of themselves and their children, so they feel less of a burden, relieve you and feel more at home.  For your adult guests, make sure you have cocktail supplies ready to boost that holiday cheer.
V. Answer guests' questions before they ask them. Provide a notebook of all information they made need with home alarm settings and codes, WiFi passwords, as well as emergency numbers for a local neighbor, security company, your plumber, etc (in case you're not home). Also provide an extra house key, so your guests can come and go as they please and you can too. In that notebook, include instructions on household instructions and guidelines to avoid any confusion or unwanted frustrations.
VI. Make sure your home is Child-Proof and Pet-safe, if needed.  If your guests include small children, be sure to store away any potentially harmful objects or decor in your home, and do any necessary childproofing of furniture. If they're bringing their pets, make sure to have extra food, dishes and gates to keep their furry friends in designated areas.
VII. Decorate your guest room for comfort and functionality. Are you overdue in getting that extra room ready for guests? Well now as the holidays approach, you can easily provide a space for your guests to enjoy. Essentials are a comfortable bed, a bed table, a surface to hold their luggage or essentials, a closet, dresser or armoire.
Other pieces that may add to their comfort are: a soft chair to read or lounge in, a desk and chair, bedside light and a small bookshelf with good reading material. (You can even include some books on local history or folklore, visitors guides, and local attractions brochures.) Add some framed artwork, vases with fresh flowers, colorful curtains and linens, scented candles or other decor to brighten up the space and make your guests feel even more welcome. Don't forget to add some holiday cheer in your decor as well.
VIII. Don't buy but rent quality furniture. If you don't currently have the budget to buy new furniture,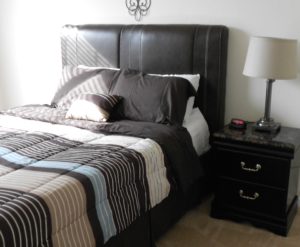 especially during the holidays when our pocketbooks are already stretched, you can rent furniture for that guest room or converted office/fitness room. Upscale Furniture provides long or short-term furniture rentals that will save you money, provide quality furniture for temporary use with convenient delivery and pickup, and then your extra room can easily return to its original use after your guests' departure.  Call us for more information at (859) 536-2324.
IX.  Spend quality time with your guests.  We can get so overwhelmed with all the details of preparations, cooking, cleaning, decorating and gift shopping, that we forget how important it is to stop, relax and unwind with your guests. Don't forget they spent time and money to travel to your hometown to be with you and your family. So take time in the mornings or evenings each day to talk, enjoy a meal or play a game. Spend time showing them around your hometown, visit local attractions or introduce them to local friends.  Enjoy your guests, make them feel welcome and don't let all the details cloud out the reason for the season … the love of friends and family.
X. Say goodbye in style.  After the visit is over, lend a helping hand to pack up their car, get the kids ready, or offer a ride to the airport.  Provide a hearty meal before their trip and pack leftover holiday cookies, turkey or ham sandwiches, and other healthy snacks that they can enjoy during their journey home. And include a little note to thank them for their visit, possibly including a scrapbook (digital or printed) of some of the new memories you made during their stay.