Refresh Your Temporary Living Space for Spring!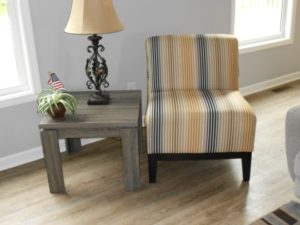 Spring is officially in full bloom. The lush shades of green, flowers popping up everywhere and warm sunny blue skies breathe an air of fresh life into the world. The inside of your apartment or home however, may have some catching up to do. Especially if your living space is only temporary it may seem daunting or pointless to spend time sprucing it up for the new season. But with a few simple tips and very little effort you can breathe fresh new life into your living space making it just as bright and cheerful as the blossoming outdoors. The physiological and even physical benefits far outweigh the small amount of effort it will takes to make.For a few ideas on how to make a few small changes for a big impact, check out these simple tips below to lighten and brighten your space!
Organize
One of the simplest and least expensive ways to freshen up your space is simply to organize. Clean off all surfaces and purchase matching storage boxes to put all loose items into, label and store in an easily accessible place..a hall closet, desk, under the bed, etc. Another great idea is to organize any bookshelves, perhaps color coding the bindings for a stylish update. As for your loose reading materials a simple magazine rack does wonders for keeping your magazines and current reads from cluttering up tabletops and counter space. Experience the truth to the adage, "an uncluttered space leads to an uncluttered mind!"
Artwork
There is such a large variety of affordable styles and sizes available there is no reason for a blank wall. A few carefully chosen pieces can completely transform a room, adding color, personality and a breath of fresh air into your living space.
Bedding and Textiles
This may seem like a very small and inconspicuous change, yet, once made, you'll find it can yield one of the biggest impacts and can completely transform a room. Starting with the bedroom, there's nothing like a fresh set of white sheets to add a sense of crisp, clean lightness to your space. Add a touch of color with a fun toss pillow and voila….a total makeover using only a few simple items. As for your living space the same principle applies, a few new toss pillows for the sofa, a coordinating throw and maybe even some fresh new hand towels for the kitchen.
Indoor Plants
For years interior design experts have stressed the importance both to design and even the added benefits of having greenery in your indoor space. If you are limited on space there are many containers available that can easily be mounted to a wall adding some flora without compromising valuable floor or counter space.
Let There be Light
Spring in the perfect time of year to throw open those curtains and windows and soak up as much beautiful natural light as possible. Even if your apartment or home is limited on the amount of natural light it gets due to window placement or lack thereof, no worries! Adding a few strategically placed mirrors does wonders. Even just one carefully placed mirror can work magic in cheering and brightening a place up!
Freshen Up Your Apartment Or Home with New Rented Furniture!
Rather than buy lesser quality or used furniture, moving it again and again, and then having to either sell or dispose of it afterward, rent quality furniture for each location or season from Upscale Furniture. They will deliver and pick up  if needed, and a reasonable monthly fee is much more affordable than buying new furniture. If your temporary housing is located in Kentucky, Ohio, Tennessee, West Virginia or Indiana, give them a call to get a quote. (859) 536-2324.
The staff at Upscale Furniture wishes you a happy, fresh and inspiring spring season!