Description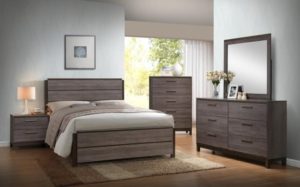 Refine your bedroom with the traditional styling of the Upscale Gray Wood bedroom collection. This assortment offers a classic look & feel, including pieces such as a night stand, dresser, mirror, and chest.  A beautiful Gray panel headboard lies at the heart of this collection, offering an elegant and sophisticated look for your master suite. The finish emanates a predominate grey tone with warm brown pulls to soften & soothe, while a modern design adds subtle detailing to the woodwork that is visually interesting and appealing.
Upscale Gray QUEEN Bed & Headboard
Upscale Gray KING Bed & Headboard
Upscale NIGHTSTAND, DRESSER, MIRROR & CHEST
Upscale QUEEN 5 PC
Upscale KING 5 PC
Only logged in customers who have purchased this product may leave a review.
Related Product