Moving Away from the Home? Here's tips to get started!
Moving away from home for the first time or relocating? Are you a new or graduating college student moving away from home for the first time? Are you starting over from a divorce or changed family circumstances?  Or are you starting over from property damage or loss, for example a house fire or flooding? How can you afford all you need to get started in your new home?  Does the process of starting out for the first time or starting over seem overwhelming? Don't panic, we have some easy tips and checklists on what you need to get started.
The moving expenses, along with down payments, security deposits and first and last month's rent can typically drain the average bank account.  So how do you even begin to also afford all of the items you'll need to make your new place home?  With the costs of furniture, housewares, linens, appliances and electronics, much less all the toiletries and groceries, you may feel this is an impossible task.  Take a deep breath, don't panic and let's help you get started with a few helpful, budget friendly tips.  Instead of feeling overwhelmed, try to make the most of this big and exciting change as you are on the road to independent living.
Choose the Right Housing & Living Situation:
If this is your first move away from your parent's home, or you're starting over from changed family circumstances, first determine where you want to start off your next journey and who you want to share that journey with. Although living alone is usually preferable, choosing a roommate to share the housing and grocery bills may appeal to you, or may be needed.  But beware, if they're not a friend or acquaintance, make sure to do a background check, credit change and ask for multiple references.  Also, have a clearly written legal contract that states the consequences if they stop paying rent or cause damage to the shared living space. It's always best to choose a very close friend if at all possible, someone who you know would have similar living habits.
When it's time to start apartment or house shopping, begin your search as early as possible as depending on the time of year, quality rentals are hard to find. Choose a community or area that is close to where you work and play, if you can afford it, to avoid a long commute. Read reviews online at Google, Facebook, Apartments.com, ApartmentRatings.com to make sure the community is all it claims to be.  Make a wish list before you start of amenities that you and your potential roommate want:  washer & dryer, number of bedrooms, square footage needed, upstairs or ground floor preference, furnished or not, porch or patio,  garage or safe parking, a pool, fitness center, dog park, walking or jogging path, etc.  You may not get all of the items on your wishlist, but if you prioritize which ones you want it will help narrow down your selection.
Before you sign the lease, read all the fine print, list of hidden fees, and any and all restrictions so there are no unwanted surprises before you move in or after you move out.
*Looking for a furnished, short or long-term housing in quality, amenity-rich communities that are lease-free and flexible?  Check out Lexington Relocation or Ideal Corporate Housing.
Now it's time to start shopping for what you need.
Moving Away Checklist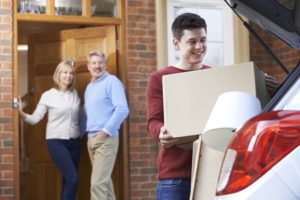 It may be impossible to buy everything brand now, so parents can be excellent sources for unwanted linens, dishes, pots, bookshelves, beds and mattresses. Also check thrift stores, garage sales and vintage centers.  Check online for furniture and household items at Craigslist, Ebay, VarageSale, Letgo, Offerup, Thredup, GSALR.com, and Facebook Marketplace. Also there are great affordable options to add some flair to your decor with Target, Homegoods, TJ Maxx and Ikea.
Here's an easy checklist of all the essentials you'll need to properly furnish your new apartment or home.
Kitchen:
Set of dishes including large and small plates, bowls, glasses and silverware (Minimum setting size of 6)
Towels, washcloths, knife set, pots and pans, baking sheets, oven mitts, cooking utensils, mixing bowls, cutting board, trash can, can opener, dish towels, dish rack, coffee maker, blender, mixing bowls, and don't forget condiments, spices and don't forget the food!
Aluminum foil, plastic wrap, plastic bags, paper to line cupboards, paper towels and napkins
Dining Room:
Table and chairs, place mats, napkins and candles
Living Room:
Sofa, Arm chair, entertainment stand, coffee table, end tables, bookshelf, lamps, television
Bathroom:
Shower curtain, Shower caddy, Towels, Washclothes, Bathmat, trash can, over the door towel hook, air freshener, toilet brush and plunger
Toiletries to include shampoo, conditioner, body wash, lotion, hand soaps, tissues and toilet paper
Bedroom:
Bed, (mattress, box springs, headboard),  end tables, dresser, bedside lamp, hangers, hamper, and desk with chair (if needed)
Linens to include pillows, mattress pad, two pairs of sheets, blankets, comforter, pillowcases, curtains or shades
Cleaning Supplies:
Vacuum, mop, broom and dust pan, wood and glass cleaner, floor cleaner, laundry detergent, fabric softener, dryer sheets, toilet bowl cleaner, bleach and shower spray
Miscellaneous to include:  trash bags, extension cords, surge strips, internet router and associated cords,  large plastic bins for storage, matches, light bulbs, first aid kit, fire extinguisher, carbon monoxide alarm, a beginners tool kit
Budget Friendly Tips: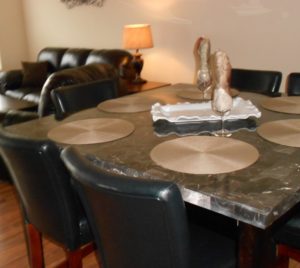 Now that you know what you need, how can you afford it all? Determine which items on the checklist are priorities and must-have to live comfortably so you only buy what you need at first.  Then gradually add furniture, housewares, kitchen items, and slowly upgrade your furniture as you can afford it. When you start feeling more settled, add some decorative items to add character and make your space all your own.
Another way to save money is to consider renting furniture instead of committing to buy. Upscale Furniture offers short or long-term rental of furniture, housewares, electronics, Tempur-Pedic mattresses, linens and even office furniture.  Instead of moving your furniture in and out when you leave, simply select the furniture package in your price range and have it delivered to your new home or apartment.  When you're ready to move out, we'll pick up with a few days' notice. We have several packages (Intern, Premium, Corporate Premium, and Godiva).  Each package level features a variety of coordinating furniture choices and housewares for your studio, one, two, three (or more) bedroom housing.
Customer Service is our priority; therefore, we are flexible enough to offer customized solutions to any furniture rental, purchase, rent-to-own or basic intern arrangement desired.  If you're not familiar with how rent to own furniture deals work, check out these five reasons you should give them a try.  Renting furniture, rather than buying, can afford you comfortable living without the huge initial payment or credit card bill. We have affordable monthly payments that will fit your budget.  Not sure what you can afford – fill out our form to get started or call us at (859) 536-2324.