Living, Working & Playing in Louisville KY
Upscale Furniture has been providing Rental Furniture to apartment communities, corporate housing companies, staging experts, college students, temporary renters, and businesses in Louisville KY for the past ten years.  We'd like to take time to thank our loyal customers located in Louisville KY as our business continues to grow in this region!  With such a thriving economy, diverse opportunities for college graduates, cultural diversity, as well as its exciting amenities (attractions, art venues, dining choices, festivals and events), we know Louisville has a huge growth potential among millennials, professionals and young families. Why?
"Louisville is one of the most uniquely authentic destinations on the planet", according to their tourism bureau. "We're an entirely different type of Southern. From boundary pushing twists on Southern cuisine that have made us one of the "10 Best New Food Cities" in America to our one and only Urban Bourbon Experience, featuring the world's only, city-wide trail filled with award-winning micro-distilleries, exhibits and craft cocktail destinations."
Why is Louisville thriving?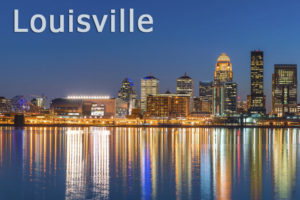 Amenities. Louisville offers all of the amenities of a major city: shopping, dining, lounges, museums, and the exciting energy of city-living. Louisville is Kentucky's largest city, which sits conveniently on the Ohio River along the Indiana border, with a population of over 250,000.  Yet despite it's city qualities and population, it still manages to feel like a small town, with a warm, hospitable and welcoming community.  With a ton of families, parks, and people who look out for each other, it's a great place to raise a family. But it is also a place for millennials and young professionals, with a resident median age of 35.8 years.
Economy. Economically, its also an advantageous place to start your career after college, as its still an incredibly affordable city to live in. The estimated average income is $53,657 but still with a low cost of living, as the average price of a home is $170,000.  Based on the national index, Louisville's cost of living is 7.8 points less than the national average. That's because across the board, life is cheaper here including everything from groceries to utilities and healthcare. Also, there are an abundance of employment opportunities with dozens of companies and organizations based in Louisville KY across several industrial and professional classifications.
Shipping. Louisville's economy historically was built on the shipping and cargo industry, as it's strategic location on the Falls of the Ohio and it's position in Central US, and that is still true today as it hosts Worldpoint, the air hub for UPS. Also, its a crossroad to three major interstate highways (I-64, I65 and I-71) so the trucking, shipping and cargo still thrives making Louisville the 7th largest inland port in the US.
Industry. Louisville is also a major center for healthcare and medical sciences industries. Production of tobacco products is still at its peak with Belknap, Brown & Williamson, R.J. Reynord, KOOL, Viceroy, Capri, Misty & Raleigh; and one-third of all bourbon comes from Louisville with Brown-Forman, Heaven Hill, Bernheim, Barton 1792, Jim Beam, Wild Turkey, Makers Mark. Craft beer is on the rise in production with 14 locally owned breweries including the Bluegrass Brewing Company and Falls City Brewing Company. Other companies based in Louisville are 21c Museum Hotels, CafePress, GE Appliances and Lighting, Hillerich & Bradsby  (manufacturer of Louisville Sluggerbaseball bats until the division's sale in 2015), Hilliard Lyons, Humana, PharMerica, SHPS, Texas Roadhouse, Thorntons, Yum! Brands (owners of KFC, Pizza Hut, and Taco Bell), and ZFX Inc.
Louisville has connections to the entertainment industry. Several major motion pictures have also been filmed in or near Louisville, including The Insider, Goldfinger, Stripes, Lawn Dogs, Elizabethtown, Demolition Man, and Secretariat.
What are some of Louisville's attractions?
The Derby. Every May, its race course Churchill Downs hosts the Kentucky Derby, a renowned horse race whose long history is explored at the Kentucky Derby Museum. Unless you've lived in Louisville, you don't know the Kentucky Derby the way residents do. This completely Louisville-unique event at Churchill Downs is one of the things that makes this city so special with the fashion, the hats, the Mint Juleps, and the prestigious visitors that time of the year, all of which make Louisville one of the classiest cities around!
Baseball is celebrated at the Louisville Slugger Museum and Factory, where Major League bats are produced and a giant baseball "slugger" marks the entrance. Most people know that Louisville is home to Louisville Slugger, which has been making baseball bats for players for over 120 years.  But did you know there has been professional baseball played in Louisville since the 1870s? From 1876 to the end of the 1899 season, Louisville hosted the Louisville Grays, the Louisville Eclipse and then Louisville Colonels. In 1968 professional baseball made a return to Louisville as the Louisville Colonels of the International League came to the city.
The Louisville Slugger Museum & Factory, is a museum and factory tour attraction located in Louisville, Kentucky's "Museum Row", part of the West Main District of downtown. The museum showcases the story of Louisville Slugger baseball bats in baseball and in American history. The museum also creates temporary exhibits with more of a pop culture focus.
Dining & Spirits. Louisville prides itself in its large assortment of small, independent businesses and restaurants, some of which have become known for their ingenuity and creativity. In 1926 the Brown Hotel became the home of the Hot Brown "sandwich". A few blocks away, the Seelbach Hotel, which F. Scott Fitzgerald references in The Great Gatsby, is also famous for a secret back room where Al Capone would regularly meet with associates during the Prohibition era. The room features a secret back door escape and was used as a starting point for rumrunners who would transport illegal moonshine from the hills of eastern Kentucky to Chicago. Also, in 1880, John Colgan invented a way to make chewing gum taste better for a longer period of time.
The Nightlife. It's not the city that never sleeps but it does go to bed later than most of its neighbors with a diverse nightlife. From the famous and pretty touristy places like 4th Street Live Howl at the Moon, to the open mic nights at smaller gems like Good Brewing Co.,  bands and games at the Zanzabar, fun dives like Sergios World Beers, the Godfather nightclub or The Connection gay bar. Whatever genre you prefer, you'll always be able to find some great music and fun.
Outdoors.  Louisville has a vibrant outdoor and recreation scene anchored by a 100 mile bike loop and their Frederick L. Olmsted parks system. Settled on the banks of the Ohio River, visitors will also receive the full benefits of the 85-acre waterfront park and water sports. Pair some of the more traditional activities with indoor bouldering, an underground mountain and BMX park, or the outdoor extreme sports park and there's a unique experience waiting for visitors of all ages and abilities.
Sports.  In the city of the Louisville Slugger and the Kentucky Derby at Churchill Downs, it's no surprise that the city is a huge sports town. You should know that college basketball is serious business, as the University of Kentucky-University of Louisville rivalry is nothing to joke about.  Rich in golf history with the hosting of the 2000 PGA Championship, 2008 Ryder Cup, 2011 Senior PGA Championship and the 2014 PGA Championship, Louisville also has a number of well maintained and affordable yet challenging public golf courses. Louisville is the birthplace of the great Cassius Clay, better known as Muhammad Ali. Today, visitors far and wide come to visit the Muhammad Ali Center, which is an international cultural and educational facility which promotes educational and public programming, and global initiatives that carry on Muhammad's legacy and inspire the exploration of the greatness within ourselves.
Attractions. If you're stay is either long or short term, don't forget to visit these local honored attractions: Kentucky Derby Museum, Louisville Zoo, Frazier History Museum, Locust Grove, Belle of Louisville, Conrad-Caldwell House Museum, Louisville Mega Cavern, and take the Urban Bourbon Trail tour.
Are you moving to Louisville KY for long or short term?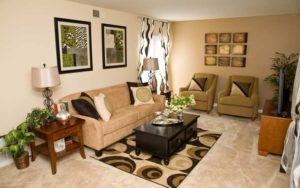 Upscale Furniture will work with you to furnish your college or military housing, corporate housing apartment, home or office. Quality business rentals, staging, model furniture, kitchen housewares, linens, appliances and home accent rentals are all available at affordable monthly rates.  While offering a complete line of furniture packages for a variety of apartment or town home layouts, we do recognize the importance of our relationship with customers.  Upscale Furniture Rental looks forward to helping you take extra special care of your apartment, home residence or your new home.
Customer Service is our priority; therefore, we are flexible enough to offer customized solutions to any furniture rental, purchase, rent-to-own or basic intern arrangement desired. Feel free to contact Upscale Furniture Rental at (859) 536-2324 or simply fill out an inquiry on our web site.  For discount furniture rental and purchase specials, please do not hesitate to send an email to dan@upscalefurniture.com.