Decorating Small Spaces for the Holidays
Christmas is just weeks away, but there is still time to get into the holiday spirit, even if you're residing in temporary corporate housing, a short-term rental apartment or student dormitories. Although you may be away from home for work, school or other reasons, you can still decorate your small apartment with big holiday cheer.  Here are some tips that don't cost a fortune but will make your small space feel warm and inviting for your family and friends.
Here's how to make a big impact in your small space during the holidays: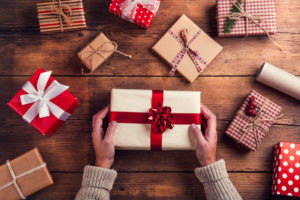 Decorate furniture and existing pieces. Instead of adding a large tree or cluttering your small space with decorative clutter, decorate what is already there.  Hang a small handmade wreath accented with a white or red ribbon to your dining chairs, windows or over your door. There are affordable wreath hangers that are easy-on and easy-off without adhesives or nails. To create your own wreath, get a wire or metal hanging ring and wrap some greenery, flowers, eucalyptus, ivy, holly leaves and baby's breath around it for a simple, organic look. [Here's a link on how to make a homemade wreath.]
Serve your food and drink with some holiday accents.   Since you have to use counter space to put our your favorite holiday drinks, food and snacks, decorate that space with a holiday runner underneath, add some cranberries in pretty jar, elegant candlesticks or place small ornaments in a festive basket or glass bowl. Those few little extra touches will add more visual appeal to your delicious holiday meal.
Wrapped gifts can serve dual purpose.  While wrapping those gifts are part of the tradition, the festive paper, ribbon and bows add color and cheer to your small space. Wrap your gifts with simple, organic paper or brown wrapping paper with twine and fresh greenery to match your homemade wreath. If you place your gifts around the apartment, under your small tree or on a decorated tabletop, they become part of the festive decor.
Hang fragrant greenery, pine garland, and mistletoe.  If you don't have room for a tree, there are so many other ways to bring in the fragrant pine and colorful green in to your apartment. You can create your own or buy seasonal garlands, some already come decorated with ornaments, bows and faux berries. Hang them around your windows, doorways, shelves, or place on mantles. You can substitute a tree with a branch from a fir or pine tree, place in a festive vase wrapped in holiday ribbon, decorate with small ornaments and spray on some faux snow.  Don't forget to hang some fresh mistletoe to get some a holiday kiss or two.
Hang those Christmas stockings. No matter how small your current home is, don't miss out on this holiday tradition of hanging your personalized stockings and stuffing them with little treasures. You can hang a pretty curtain rod with temporary damage-free hanging solutions (3M Command Brand). Use metal clips to hang each stocking from the rod, which can be placed on a mantle, over a shelf or midway up the wall to create a makeshift mantle. Place your wrapped gifts on the floor underneath the curtain rod to create the full effect.
Miniature trees scattered throughout the apartment bring cheer to each room. Get a dozen pinecones spray painted in green, place into small silver or red planters, and finish off with some glitter and small star glued to the top. Place them throughout each room on a window sill, countertop, dresser, or each sink counter. That small punch of green will add a little cheer to each room.
Add a new friend, Elf on a Shelf. It's a fun-filled Christmas tradition that's captured the hearts of children everywhere who welcome home one of Santa's scout elves each holiday season. Each morning, the scout elf returns to its family and perches in a different place to watch the fun. Children love to wake up and race around the house looking for their scout elf each morning. The Elf is only 17″ tall, and can fit anywhere throughout the apartment and is a crowd-pleaser for young and old, as it's a hide-and-seek game all can enjoy.
Fill the air with holiday scents. Fragrance takes no room at all and has the biggest impact as scents can bring back special memories and create new ones. With scented candles, essential oils or a homemade cranberry and cinnamon stove-top potpourri, you can make up for the minimal decor. To make a dual impact with scent and flavor, make some slow-cooked homemade mulled cider just before guests arrive.  [Here's an easy recipe for Mulled Apple Cider with Apple Brandy.]
Get your apartment guest-ready for the holidays with new rented furniture. You want your guests to feel comfortable as well as dress up your apartment to impress with stylish, quality brand furniture, but you also want furniture that fits your style and budget?  With rented furniture you can accomplish all of the above without breaking the bank during the holidays. Renting furniture and housewares for long or short-term can be the perfect solution. Call Upscale Furniture to get prices for reasonable packages for your family room, dining room or guest bedroom.
Add music to your holiday party. There is an endless stream of holiday music this time of the year as musicians from every genre release their own Christmas album each year, as well as the many music channels dedicated to playing only holiday tunes. Set the mood before and after your guests arrive with holiday music to put everyone in the spirit of the day, and encourage spontaneous sing-a-longs with your guests. If you feel really motivated, get your friends to spread good cheer to your neighbors with Christmas caroling before or after your Christmas dinner.
We wish all a safe and happy holiday season from the staff of Upscale Furniture.
---