Chattanooga TN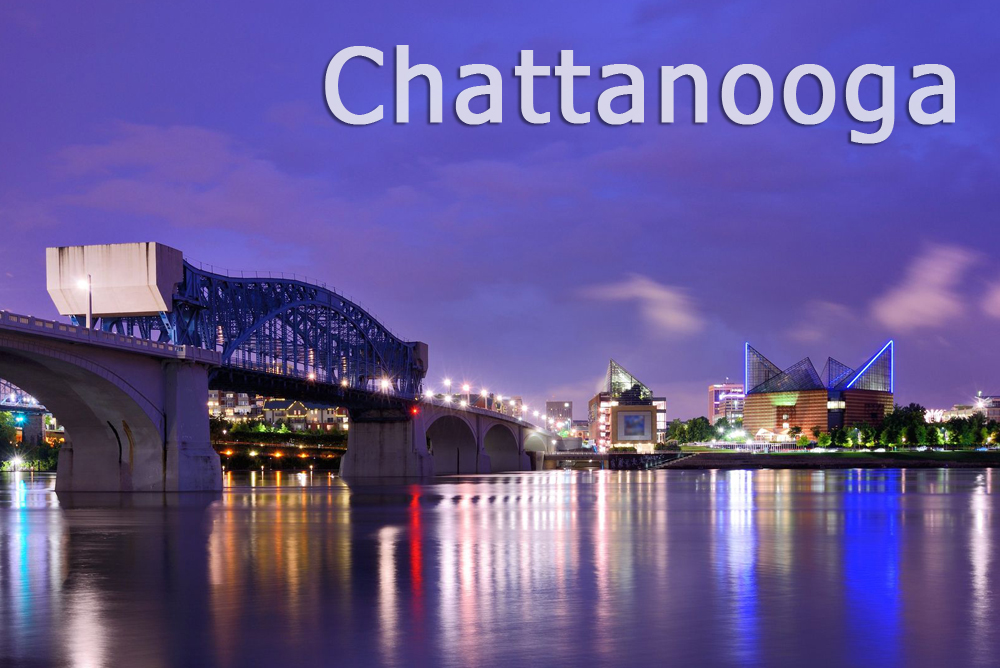 Chattanooga, of Tennessee, located in Hamilton County is the fourth largest city of the state with a population of 176,588 in 2015.  Conveniently located served by multiple railroads and interstate highways, located 120 miles to Atlanta GA, 120 miles to Knoxville, 135 miles to Nashville, 120 miles to Huntsville AL and 148 miles to Birmingham AL.  Located in the valley portion between the Appalachian Mountains and Cumberland Plateau, it is beautifully surrounded by mountains and ridges, aptly named the Scenic City, also known as the Gig City, referencing Chattanooga's claims that it has the fastest internet service in the Western Hemisphere.
HISTORY:  Early history of Chattanooga was deeply rooted in Native American settlements by the Cherokee tribe. In 1816 John Ross, who later became Principal Chief, established Ross's Landing. Located along what is now Broad Street, it became one of the centers of Cherokee Nation settlement, which also extended into Georgia and Alabama.  In 1839, after the US Government forced the Cherokees to relocate,  the community of Ross's Landing incorporated as the city of Chattanooga. The city grew quickly, initially benefiting from a location well-suited for river commerce. With the arrival of the railroad in 1850, Chattanooga became a boom town. During the American Civil War, Chattanooga was a center of battle. By the 1930's Chattanooga was known as the "Dynamo of Dixie", inspiring the 1941 Glenn Miller big-band swing song "Chattanooga Choo Choo".
Like other early industrial cities, Chattanooga entered the 1980's with serious socioeconomic challenges, including job layoffs due to deindustrialization, deteriorating city infrastructure, racial tensions, and social division. In late 20th and early 21st centuries, substantial private and governmental resources have been invested in transforming the city's tarnished image. Efforts to improve the city include the "21st Century Waterfront Plan" – a $120 million redevelopment of the Chattanooga waterfront and downtown area, which was completed in 2005. The Tennessee Aquarium, which opened in 1992, has become a major waterfront attraction that has helped to spur neighborhood development.
December 2009, Chattanooga was ranked 8th out of America's 100 largest metro areas for the best "Bang For Your Buck" city, according to Forbes magazine.
ECONOMY:  Chattanooga's economy includes a diversified and growing mix of manufacturing and service industries. Chattanooga is home to the University of Tennessee at Chattanooga (UTC) and Chattanooga State Community College.  Notable Chattanooga businesses include Access America Transport, BlueCross BlueShield of Tennessee, CBL & Associates, The Chattanooga Bakery, Chattem, the world's first Coca-Cola bottling plant, Coker Tire, U.S. Xpress Inc., Covenant Transport, Double Cola, CraftWorks Restaurants & Breweries, Luken Communications, Miller & Martin, the National Model Railroad Association, Reliance Partners, Republic Parking System, Rock/Creek, Tricycle Inc., Unum, Amazon, and Volkswagen Westmoreland Assembly Plan. Startups have been an increasing trend, due in part to EPB's fiber optic grid. Tourism and Hospitality has been a growing part of Chattanooga's economy, with 2014 being the first year for Hamilton County to surpass $1 billion in revenue.  In September 2010, EPB became the first municipally owned utilities company in the United States to offer internet access directly to the public at speeds up to one gigabit (1,000 megabits) per second by utilizing its fiber optic network.
CULTURE: Chattanooga attractions are world-class with breathtaking views surrounding you everywhere you turn. Whether you want to take in a play or concert, visit an amazing museum, be a part of the nightlife, enjoy the outdoors or experience a piece of history, it's all here.  Chattanooga is home to the International Towing and Recovery Hall of Fame & Museum, Tennessee Valley Railroad Museum, Hunter Museum of Art, Chattanooga History Center, the National Medal of Honor Museum, the Houston Museum, the Chattanooga African American Museum, and the Creative Discovery Museum.  Chattanooga has a wide range of performing arts in different venues including the Tivoli Theatre, Chattanooga Symphony & Opera, Chattanooga Theatre Centre, and Memorial Auditorium. Chattanooga hosts several writing conferences, including the Conference on Southern Literature and the Festival of Writers.
Chattanooga touts many attractions, including the Tennessee Aquarium, caverns, and new waterfront attractions along and across the Tennessee River. In the downtown area is the Chattanooga Choo Choo Hotel, housed in the renovated Terminal Station and exhibiting the largest HO model train layout in the United States. Also downtown are the Creative Discovery Museum, an IMAX 3D Theatre, and the newly expanded Hunter Museum of American Art. The Tennessee Riverwalk, an approximately 13-mile long trail running alongside the river, is another attraction for both tourists and residents alike. The Chattanooga Zoo at Warner Park is located a short distance from the downtown area.
Parks and natural scenic areas provide other attractions. The red-and-black painted "See Rock City" barns along highways in the Southeast are remnants of a now-classic Americana tourism campaign to attract visitors to the Rock City tourist attraction in nearby Lookout Mountain, Georgia. The mountain is also the site of Ruby Falls and Craven's House.
Information:
Things to Do in Chattanooga TN
Upscale Furniture services the Chattanooga TN Area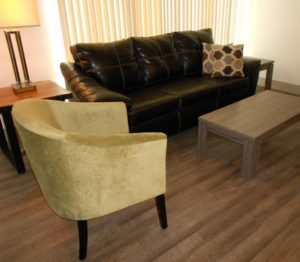 Upscale Furniture, offers short and long-term furniture and housewares rental in Knoxville TN. Quality business rentals, staging, model furniture, kitchen housewares, linens, appliances and home accent rentals are all available at affordable monthly rates.  While offering a complete line of furniture packages for a variety of apartment or town home layouts, we do recognize the importance of our relationship with our leasing staff.  Upscale Furniture Rental looks forward to helping you take extra special care of your apartment home residence or your new home.
Feel free to contact Upscale Furniture Rental at (859) 536-2324 or simply fill out an inquiry on our web site.  For discount furniture rental and purchase specials, please do not hesitate to send an email dan@upscalefurniture.com.